Enjoy lunch or diner in the atmospheric taproom on on the romantic terrade. With a small party you are also welcome in the powder room, armoryof the wine cellar. At Castle Montfoort you can enjoy exquisite dishes in a warm and stylish atmosphere. Imagine yourself viscount of Montfoort for one day! If you can we did well. We are happy to see you as our guests.
Castle Montfoort and getting married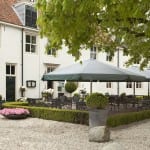 Should you consider getting married in Castle Montfoort then Onder den Peerenboom is the ideal location to spend a magnificent wedding night. We are experienced in working with Castle Montfoort and look forward to discussing with you or your master of ceremonies how we can make you wedding night become one with your wedding day.
" We spent our wedding night at Onder den Peerenboom. It was a great location and a perfect suite. It was way mote atmospheric and romantic than a hotelroom. The service was very good. Breakfast was magnificant! For all you engaged to be married couples: we highlt recommend Onder den Peerenboom for your wedding night. " 
Fiona and Mennold, Bed & Breakfast Nederland