DE KOM, city theatre and art centre in Nieuwegein fizzes with activities. It is the place in Nieuwegein for all who want to experience, live and practice art and culture. Since September 2012 all activities of DE KOM take place in the magnificent new building at the Stadsplein (City Square).
The two theatres of DE KOM allow for a versatile programming. You can enjoy the most spectacular
productions in the main theatre and fully immerse in the more intimate performances in de small theatre. You will be able to enjoy the great names of the theatre world  and discover the talent of tomorrow. Tickets are available at the theatre's register or via www.dekom.nl.
You can complete a night out at DE KOM by paying a visit to bistro and yheatre cafe De Komeet (the comet). You can go to De Komeet for both a quick bite as well as a complete diner.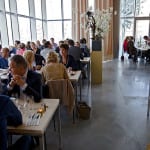 Onder den Peerenboom and Theatre De Kom
When you want to combine your stay at Onder den Peerenboom with a great night out of diner and entertainment make sure to check out theatre DE KOM's program. It is a 15 minute drive from Onder den Peerenboom and there is enough parking space in th eparking garage under and next to the theatre. In and around the theatre there are manu places for drinks and diner. Please ask your hostess Femke.